We visited friends who have a lemon tree growing in their backyard.  Our 5-year-old, Viv, was given a paper grocery bag and the instruction to "just pick a few."  So naturally, we came home with 34 lemons.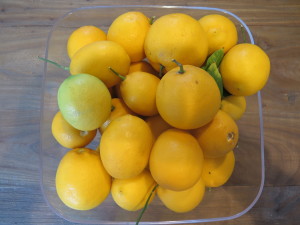 It was very important to me not to waste these luscious lemons. I estimated we had a week until they started to soften up or turn brown, and made it my goal to use up all 34 — roughly 7 lemons per day.  Luckily, I love lemons.  But could I convince the lemon looter to partake in citrus-palooza?  Time would tell.  Here's what we made:
1. Lemon Tarts
Viv and I have been watching Kids Baking Championship on Food Network.  Let me just say, it's the kindest, gentlest reality show you could ever show a child who's too young to be watching reality television. There's a lot of hugging and helping each other.  And it's inspiring to see young kids (10-13) who are superstars in the kitchen.  So Viv was really excited to bake with me.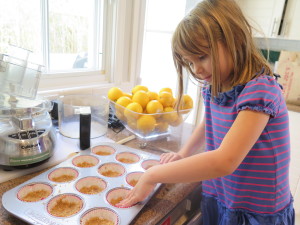 Unfortunately, my baking repertoire does not include the French macarons or eclairs the kids whip up on TV, so we had to dial it down a few notches. This recipe for lemon tarts, found on Kelly Neil's website and adapted from The Feisty Chef, is super easy.  For one thing, you get to bake it in a muffin tin, and I love muffin tins.  We lined ours with cupcake wrappers.
For the crust: Mix 1 and 1/4 Cups of graham cracker crumbs (I pulsed the crackers in the Cuisinart), 2 Tbsp of white sugar and 5 Tbsp of melted butter in a bowl. Scoop about a teaspoon of the mixture into each cup and pack down (a fun job for a kid with clean hands). Bake for 10 minutes at 350 and let cool.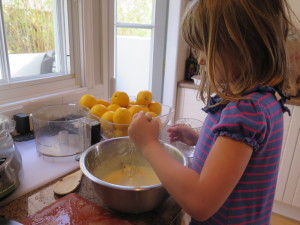 Filling: Whisk together 1 can of sweetened condensed milk, 4 egg yolks, 3/4 cup of lemon juice and the zest of one lemon. Fill cups about 3/4 of the way full with lemon filling.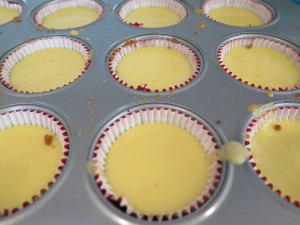 Bake at 350 for 15 minutes or until lemon isn't so liquidy.  Et voila!  Tart and sweet.  Viv gobbled them up even though they were not made of chocolate fudge.  And she learned how to separate eggs and operate the Cuisinart, which I now have to hide. (Lemon tally: 4 lemons down, 30 to go)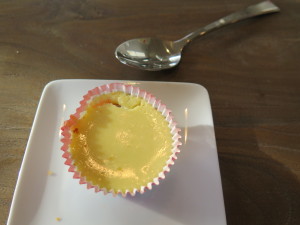 2. Strawberry Lemonade
While we waited for the lemon tarts to cool, we mixed up a quick batch of strawberry lemonade.  I do not use an exact recipe for this, and it comes out differently every time, but it's always a gorgeous shade of pink.  
I used the juice of 4 lemons, 1/3 to 1/2 cup of sugar, about 4 cups of water + ice and a handful of strawberries. I pureed the strawberries with a spoonful of sugar first, then stirred the rest of the ingredients into the pitcher.  You could also blend the whole thing.  Adjust quantities to taste. (Lemon tally: 4 more lemons down, 26 to go)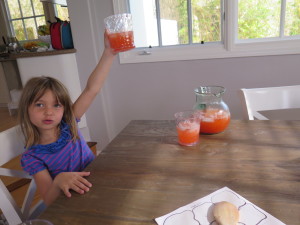 A few days later, I pushed my luck and decided we would try cucumber lemonade.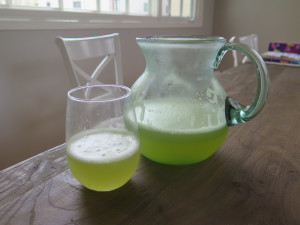 I thought it was fantastic and spa-like, but Viv rejected it.  That girl can spot a vegetable from a mile away. (Lemon tally: 4 more lemons down, 22 to go)
3. Lemon Spaghetti
For a lot of pasta lovers, the ultimate comfort food is Spaghetti Carbonara. And while that is delicious, to me, nothing is more satisfying and easy than Lemon Spaghetti loaded with parmesan cheese. I love this Giada De Laurentiis recipe:
Cook a pound of spaghetti in a large pot of boiling salted water until tender but still firm to the bite, stirring occasionally, about 8 minutes. Meanwhile, whisk 2/3 cup olive oil, 2/3 cup grated parmesan, and 1/2 cup fresh lemon juice (about 3 lemons) in a large bowl to blend.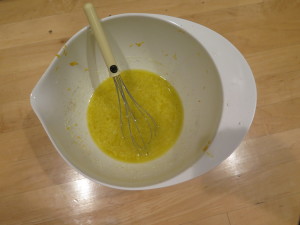 Drain the pasta, reserving 1 cup of the cooking liquid. Toss the pasta with the lemon sauce, and the reserved cooking liquid, adding 1/4 cup at a time as needed to moisten. Season with salt and pepper. Garnish with a TBSP of lemon zest and some chopped basil. Chopped Italian parsley is another tasty topping.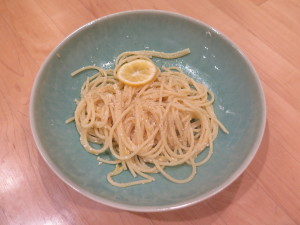 Or you can omit the greens like I did, which makes it less pretty on the plate but more kid-friendly in my house.  And for a non-dairy option, skip the parmesan and finish the dish with bread crumbs sauteed in olive oil and garlic. (Lemon tally: 3 more lemons down, 19 to go.)
4. Avgolemono Soup
Why stop at lemon entrees, desserts and drinks when you can make lemon soup?  It might not sound good but you're going to have to trust me on this one.  The combination of rich chicken stock, lemon, egg and rice makes this soup feel like a healing hug.
I got the recipe for Greek Avgolemono from Ruth Reichl, the food writer, cookbook and memoir author with whom I am obsessed.  (Need a book? Read her first memoir, Tender at the Bone and then just keep going.)
Ruth Reichl's recipe:
6 cups chicken stock
1/3 cup uncooked rice
4 egg yolks
salt
1 tablespoon lemon rind, grated
3 tablespoons fresh lemon juice
Bring stock to a boil. Pour in the rice and cook about 20 minutes, until it is tender. Reduce to low heat.
In a bowl beat the egg yolks. Add the lemon rind, lemon juice and salt. Pour about 1/2 cup of the broth into the egg mixture, stirring constantly. Then pour it back into the broth, stirring. Simmer for about 5 minutes, stirring, over low heat, until slightly thickened.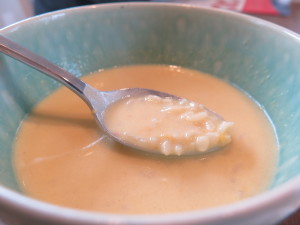 Lately, I've been obsessed with making my own chicken stock.  It's really easy–it just takes a while–but most of the time is hands-off simmering.  When you make a soup with homemade stock instead of the boxed stuff, it's unbelievable how much better it tastes.  And bone broth is supposed to be super healthy.  There is no one right way to make chicken stock, but I like this recipe from Ina Garten, and I've successfully made smaller batches when I didn't feel like busting out a lobster pot.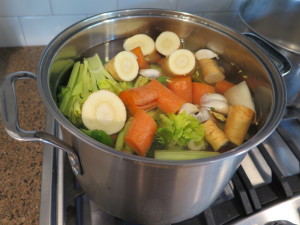 In case you're wondering, Viv rejected lemon soup, but the adults (and baby) loved it.  Don't worry, she didn't starve–I was able to turn some extra chicken stock into a plain chicken and noodle soup for the finicky one.  (Lemon tally: 2 more small lemons down, 17 to go.)
5. Lemon and Asparagus Risotto
Clearly, I am not someone who shies away from carbs.  This risotto is easy and fabulous, and you can change the ingredients to use whatever veggies or meats you like.
It's based on Ina Garten's Easy Parmesan Risotto, which she brilliantly bakes in the oven instead of stirring on the stovetop (ain't nobody with kids got time for that). The idea to add lemon juice and lemon zest came from Emily Horn, a wonderful cooking teacher I know.
1 1/2 cups Arborio rice
5 cups simmering chicken stock, divided
1 cup freshly grated Parmesan cheese
1/2 cup dry white wine
3 tablespoons unsalted butter, diced
2 teaspoons kosher salt
1 teaspoon freshly ground black pepper
1 1/2 TBSP freshly-grated lemon zest
2 TBSP lemon juice
1 bunch asparagus, roasted and sliced (I pre-cooked mine for 25 minutes at 400)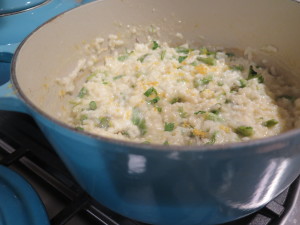 Preheat the oven to 350 degrees.
Place the rice and 4 cups of the chicken stock in a Dutch oven, such as Le Creuset. Cover and bake for 35-40 minutes, until most of the liquid is absorbed and the rice is al dente. Remove from the oven, add the remaining cup of chicken stock, the Parmesan, wine, butter, lemon zest, lemon juice, salt, and pepper, and stir vigorously for 2 to 3 minutes, until the rice is thick and creamy. Add the sliced asparagus and stir until heated through. Serve hot.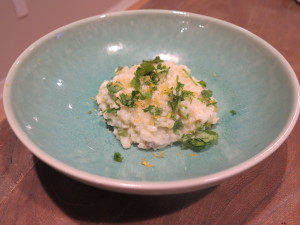 This was a tasty enough for Viv to carry around the house with her, even if her face appears skeptical.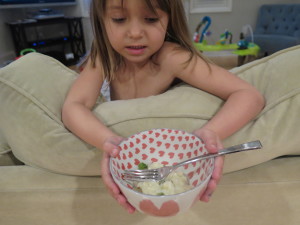 (Lemon tally: 3 more lemons down, 14 to go.)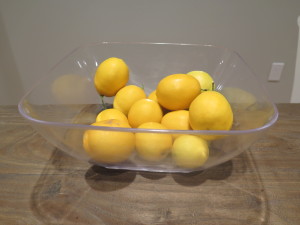 6. Lemon Bars
What's much easier than lemon meringue pie but just as good, at least according to Viv?  Lemon bars!  I had never actually made them before, so I rolled the dice on this internet recipe I found at Allrecipes.com.  We used 5 instead of 2 lemons, and added powdered sugar, both of which I recommend!
1 cup butter, softened
1/2 cup white sugar
2 cups all-purpose flour
4 eggs
1 1/2 cups white sugar
1/4 cup all-purpose flour
5 lemons, juiced
Powdered sugar for topping
Preheat oven to 350 degrees F (175 degrees C).
In a medium bowl, blend together softened butter, 2 cups flour and 1/2 cup sugar. Press into the bottom of an ungreased 9×13 inch pan.
Bake for 15 to 20 minutes in the preheated oven, or until firm and golden. In another bowl, whisk together the remaining 1 1/2 cups sugar and 1/4 cup flour. Whisk in the eggs and lemon juice. Pour over the baked crust.
Bake for an additional 20 minutes in the preheated oven. The bars will firm up as they cool.
Sprinkle with powdered sugar
Try not to think about how much butter and sugar is in these and just enjoy once in a while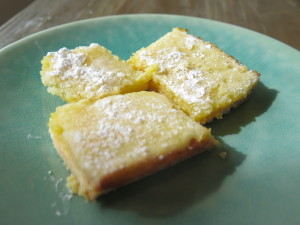 This was another great Kids Baking Championship moment for Viv.  She cracked all the eggs, squeezed the lemons, stirred and poured.  In another couple of years she will be making these all by herself.  So thumbs up for kid-friendliness, both in the making and the eating. (Lemon tally: 5 more lemons down, 9 to go)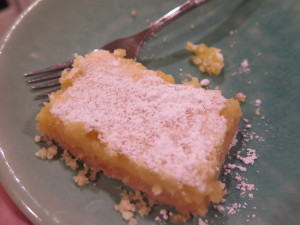 7. Avocado Sammies
I've been struggling with school lunches.  Viv is bored with peanut butter, temporarily out of love with cheese and perturbed by the sliminess of sliced turkey.  But you know what she'll eat?  An avocado sandwich.  I smoosh half an avocado with lemon juice (!), which keeps it from turning brown and a sprinkle of salt.  Spread on wheat bread and done!  (Made several–2 more lemons down, 7 to go)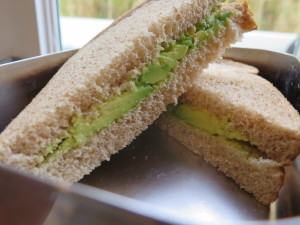 With 7 lemons left in the bowl, I hit cooking burnout.  Our babysitter helped me out by marinating some chicken breasts in lemon juice.  And I offered everyone hot and cold lemon water until they couldn't take it anymore.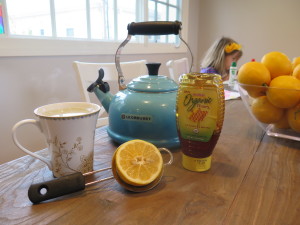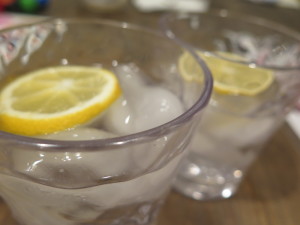 No one in this house is getting scurvy, that's for sure!
(Lemon tally: 0.  And I'm not buying any at the store this week. As Tina Fey used to say, "Lemon, out.")