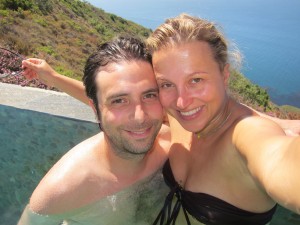 After three and half years in the parenting trenches, my husband and I took our first adults-only vacation (our honeymoon) at a resort in Big Sur, California. I didn't feel too guilty about leaving our daughter behind with her grandparents, because ice cream. The real question was, would I be okay? As a stay-at-home mom, I didn't have much experience with separation. It felt weird to be flying the coop.
So, on our first night away, instead of the usual bedtime routine of mac 'n cheese, bath time and stories, we had cocktails, a candlelit dinner overlooking the ocean, and a long soak in the infinity hot tub. It turns out a little separation wasn't so bad! What's more, I made some pleasant discoveries about my relationship and myself:
I like monopolizing my husband. As rewarding as it's been to see him evolve into a wonderful father, I'll admit it was nice to have my husband all to myself again, holding my hand and making me laugh. It felt good to have uninterrupted conversations and really focus on each other. And let's face it; it is way easier to flirt when you can grab an ass instead of wiping one.
Without chores or childcare, there is literally nothing to fight about. At home, a sink full of dishes can have us sniping at each other like Al and Peg Bundy. On vacation, we're more like characters from a Fitzgerald novel: "Shall I open another bottle of wine?" "Yes, darling, that would be lovely."
Continue reading at Lifetime Moms… Read More »