Me: Viv, we have some exciting news.  You know how you're always saying you want to be a big sister?
Viv: Yeah?
Me: Well you're going to be a big sister!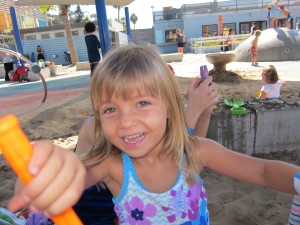 Viv bounces up and down on the couch, huge smile.  Then her face darkens.
Viv: But mom, I've thought about it, and I don't want a little brother. I want a little sister.
Dave: Well, good news, honey, you're going to have a little sister!
(So now Viv thinks you can just order up the gender of your choice like an ice cream flavor.  But whatever, it's true.  We're having a girl.)
This news produces another huge smile from Viv, then…
Viv: Can I go back to watching my show now?
Since I grew up with a brother, I do feel badly that Viv will not get to have a boy sibling, because they are wonderful, but mostly I am really excited and relieved. I can reuse the baby clothes, they can easily share a room, and I'll probably never be peed on in the face.
As for raising sisters, well, I have no idea, other than I'm pretty sure I won't bring the baby to magic trolls that wipe away her memories of her big sister's ice powers and then keep them apart their whole childhoods. So wish me luck, and leave your advice in the comments!