Pregnancy is an emotional time. There are happy tears. Sad tears. Scared tears. And "I don't even know why I'm crying" tears. Maybe it's one of these 40 reasons: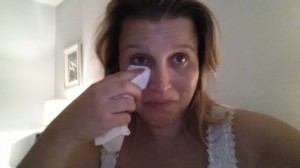 1. It's Tuesday
2. That commercial with the babies/puppies/baby puppies came on
3. Your partner forgot to buy the paper towels
4. Your partner brought you flowers
5. You're getting what you've always wanted
6. But what if you've made a horrible mistake?
7. You heard the heartbeat for the first time
8. You threw up for the first time
9. You went to work with just a little bit of vomit in your hair
10. Your mom brought your tattered old baby blanket that she's been saving for decades, hoping this moment would someday come
11. Your mom says she thought you weren't supposed to gain any weight until the second trimester
12. Your pants don't fit
13. What the hell is going on with your nipples?
14. There is no cure for stretch marks
15. Your BF sent you your first Mother's Day card
16. The overwhelming cuteness of Baby Gap
17. You had a bad day
18. You had a good day
19. Someone just looked at your belly and remarked, "Any day now!" – despite the fact that you're only halfway there
And I'm just getting started…Keep reading at Lifetime Moms… Read More »