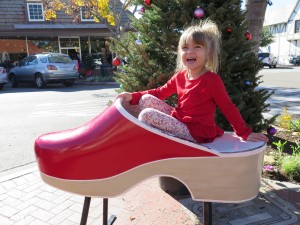 If you live outside California, you may never have heard of Solvang- a charming village near Santa Barbara that was founded by Danish settlers in 1911 (the name Solvang means "Sunny Fields" in Danish).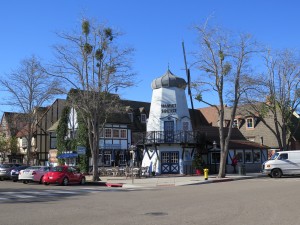 When deciding whether to visit Solvang, ask yourself, is your favorite part of Ikea the cafe where they serve the Swedish meatballs with lingonberry jam?  Well, Sweden is pretty close to Denmark, and Solvang is even closer. Velkommen!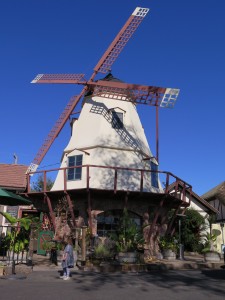 Dave and I thought Solvang would be great for winter break because of its kid friendliness and extreme Christmassyness.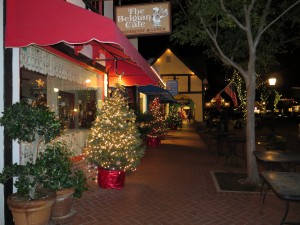 Just about every business in town had its own Christmas tree out front, with ornaments from edible…
…to drinkable.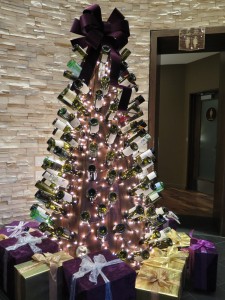 While we weren't able to partake in the wine tasting that Solvang is also known for, we did eat…
And eat…
And eat…
In a town that's only a few blocks long, I counted several ice cream parlors, 2 chocolate shops, a fudge shop and at least 6 bakeries.  It was the best last hurrah before taking my gestational diabetes test that I could ever ask for.
Between meals, we did find some other fun things to do, like visiting the adorable miniature horses at Quicksilver Ranch.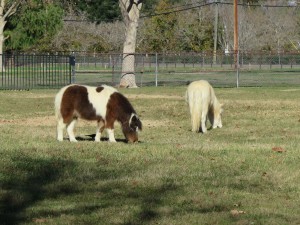 And feeding some very hungry and demanding birds at OstrichLand USA.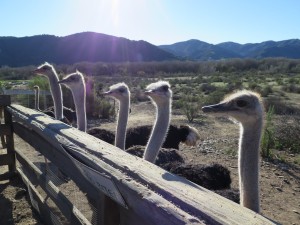 Do they not look like muppets to you?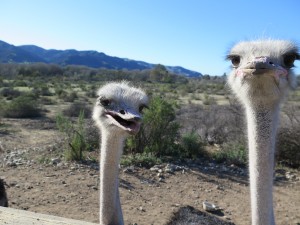 My muppet: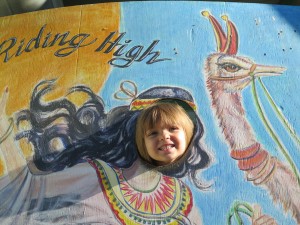 We checked out the Sunny Fields Park playground, which looks like a medieval castle.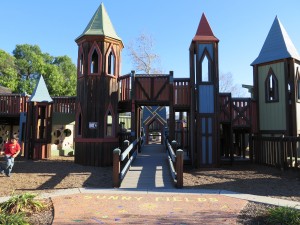 Perfect for princesses who like playing hide and seek.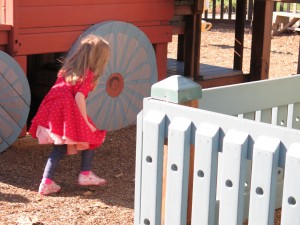 And really big slides.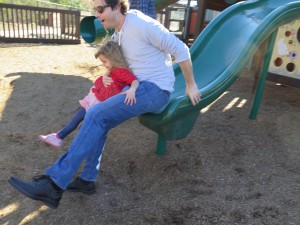 We stopped by the Hans Christian Andersen museum (above a wonderful book store, The Book Loft), which is free and very educational.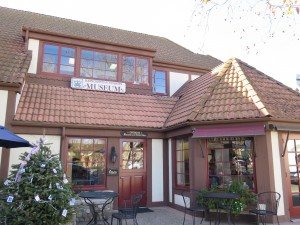 Though I'd grown up with such Andersen classics as Thumbelina, The Ugly Duckling and The Princess and the Pea, I somehow never realized that he wrote the original The Little Mermaid.  It's a point of pride among the local Danes, so Solvang is bedazzled in mermaid imagery, which was very pleasing to a 3-year-old girl I know.
Just beware–a few pages into reading aloud, I discovered that in Hans Christian Anderson's version, the The Little Mermaid gets her tongue cut out (yikes) and a bunch of other gruesome stuff that got Disney-washed later.  Good thing my kid can't read yet.
We also partook in some extremely kitschy shopping.  Solvang seems to be a premiere source of cuckoo clocks, faux antique tea sets and dolls that might kill you in your sleep.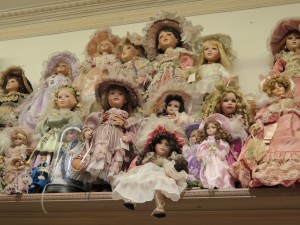 Walking around town, day or night, was always a hoot.  I never did find out where this horse-drawn trolley went, but I hope it's how people commute to work.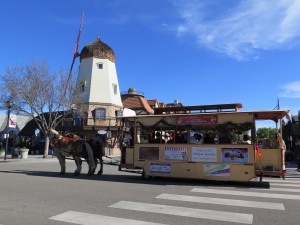 If you're interested in visiting Solvang, we enjoyed staying at The Hotel Corque, which is well-located at the edge of town and has an upscale farm-to-table restaurant, Root 246.  We also had good meals at Cecco, Succulent Cafe, Paula's Pancake House and all of the bakeries.  If you get there, please bring back some more Ebelskiver.   Happy Holidays!