Until recently, I would have told you that my most unusual job experience was working as a street vendor on Telegraph Avenue in Berkeley, selling tie-dyed t-shirts from a shop called The Wizard of Odd that said things like, "When the going gets tough, the tough get growing."  I was 20, working alongside one of my besties, and spending every dollar earned on beaded jewelry and vintage halter tops. Needless to say, it was awesome.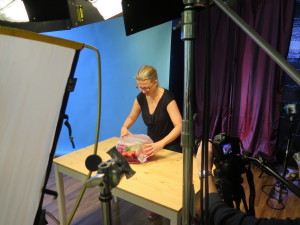 But my street vending gig might have gotten knocked off the top spot.  Because last month, I was asked to be the pair of hands in a series of cooking demonstrations sponsored by Hidden Valley Ranch.  (The videos are embedded in various summer food & entertaining blog posts on Momtastic.)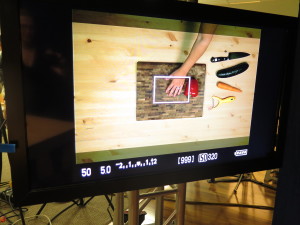 For one long day on set, my hands had to pour, mix, shred, stuff and chop while the rest of me got to kick back sans makeup and shoot the breeze with the crew, which included a food stylist–the job I want to have in my next life.  (I don't know what's happening here but I think she is blow drying the cheese to keep it melty.)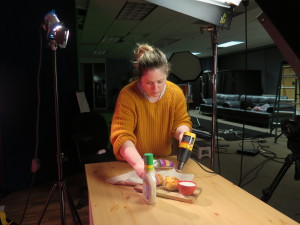 It was super fun yet definitely pushed me out of my comfort zone, as I normally don't cook in public and I'm not exactly a culinary school graduate.
Scariest moment:
Having to demonstrate the "right" way to chop vegetables.  Luckily, when the video is sped up, it actually looks like I have decent knife skills.  But the food stylist was cringing the entire time.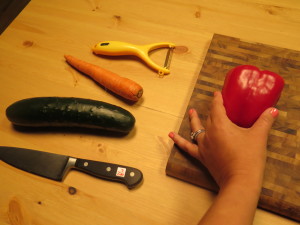 Most embarrassing moment #1:
When I cut my forefinger with a bread knife and production had to stop down for 20 minutes so I could finish bleeding. So much for those knife skills!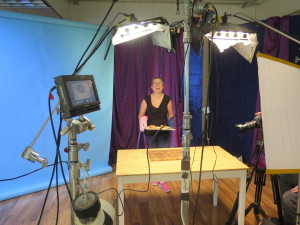 Most embarrassing moment #2:
When I accidentally referred to my work as a "hand job."
Most delicious moment:
Making these deconstructed s'mores and eating like 17 of them while the crew set up for the next shot.  I highly recommend washing them down with some rose sangria.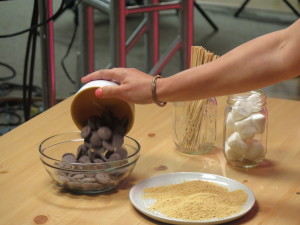 Below are the rest of the cooking demo videos for anyone who wants to watch, Mom.
But before I go…what's the strangest job you've ever had? I really want to know.  Please, the weirder the better.
http://www.momtastic.com/life/625301-bbq-dip-bar/
http://www.momtastic.com/life/622733-bbq-party/
http://www.momtastic.com/diy/623865-chicken-wings-boxes/
http://www.momtastic.com/life/430203-20-fresh-bbq-ideas-to-make-your-patio-party-shine/
http://www.momtastic.com/food/620805-grilled-desserts/#/slide/1
http://www.momtastic.com/life/623771-big-batch-drink-recipes/#/slide/1
http://www.momtastic.com/food/621367-party-dippers/
http://www.momtastic.com/life/624971-summer-party-shortcuts/
http://www.momtastic.com/food/620805-grilled-desserts/#/slide/1
http://www.momtastic.com/food/619685-ranch-pasta-salad-stuffed-shells-recipe/