My awesome mommy friend and kids clothing maven Laura Angotti, creator of Rowdy Sprout rocker wear, has freebies for Carriage Before Marriage readers again!
You can win this adorable AC/DC hoodie dress…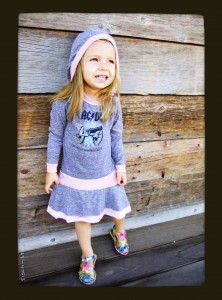 …or almost anything you can find on the Rowdy Sprout website.
Plus this time, there will be TWO winners.  We're giving away an item for one girl and one boy, just like these random child models here: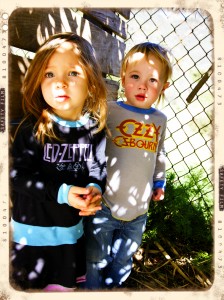 AKA Viv and Briggs, her on-again/off-again boyfriend.
You know, a lot has changed since 2012.  The last time we did this giveaway, Viv smiled sweetly for the camera in her Journey tank dress: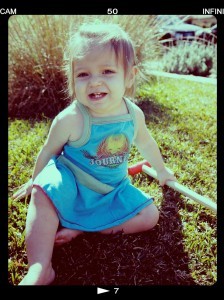 Cut to 2013, when apparently, smiles are for babies.  Now we pout.
But that's too frightening to talk about right now.  Let's talk about how to win:
#1 Go to Rowdy Sprout's Facebook page and Like it.   You can check out all the celebrities who love to dress their kids in Rowdy like Nicole Kidman and Hilary Duff (and who knew Johnny Drama had a daughter?).
#2 Go to RowdySprout.com and browse for your favorite item — maybe this sweet Bruce Springsteen baseball tee: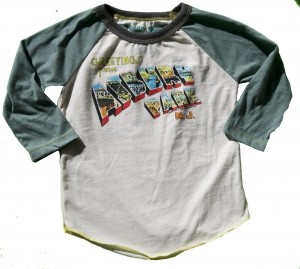 Or a Led Zeppelin ruffle dress (we own it/love it):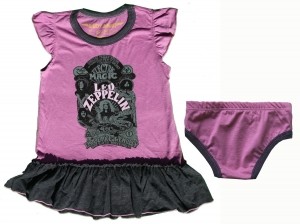 Or even a Grateful Dead zip-up jacket (back view):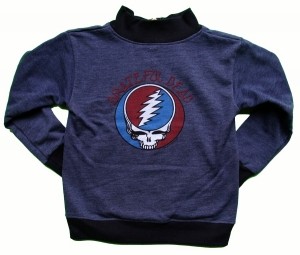 They're all so freaking cute, I wish they came in my size.  Most styles are available in sizes from 3-6 months up to Kids 12.
#3 Leave a comment under this post saying whether you're shopping for a boy or girl, and what you'd like to win.  And that's it!
The giveaway is open from Wednesday, 10/9/13 – Tuesday, 10/15/13.  One boy item and one girl item will be chosen using Random.org and announced on the blog, so make sure you subscribe.
Good luck and rock on.
GIVEAWAY IS NOW CLOSED.  THANK YOU.