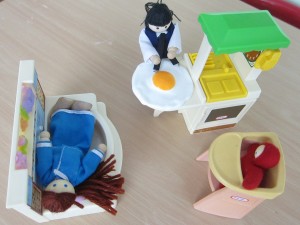 Dave was at a bachelor party in Las Vegas last weekend, leaving me home alone with our two-year-old while he re-enacted "The Hangover". I'm spoiled because he rarely travels, so I was dreading being on duty all weekend by my lonesome. As it turned out, solo parenting wasn't so bad (though I'm grateful it was temporary).  All I had to do to make it work was shake up my routine. Here's how:
1)  I Ate Nothing But Frozen Dinners – When my partner's around, I often prepare home-cooked meals. I actually enjoy trying out healthy recipes, but between the shopping, prep, cook time and dish washing, it's a huge production that can eat up half the day. A frozen dinner takes four minutes. Ding! Processed food may be bad for me, but it feels like a spa day.
2)  Lights Out at 9pm – Most nights, after our kid goes to bed, we try to enjoy some quality couple time. With one half of the couple in Vegas, I decided to stockpile sleep. And I did so in ugly pajamas with the temperature set to "too warm for a dude," just how I like it.
3)  I Made a Mess – Dave and I have different styles of housekeeping. While he tends to clean up constantly, I like to let the mess build up, then attack it all at once, preferably with dance music.  Our two-year-old was totally down with that.
Finish the list at Lifetime Moms…