There was a time in my life when fall meant fashion. I was one of those girls who worshipped the thick September issue of Vogue like it was the bible, soaking in the season's must-have styles, then finding fabulous knock-offs from sale racks and outlet stores.  Not all my get-ups were runway-worthy (why was I so in love with pleather? That stuff does not exactly wick away moisture) but I lived for clothes, and I had the VISA bills to prove it.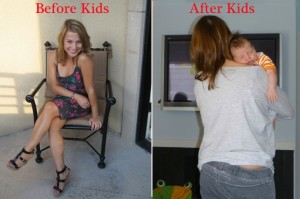 Now that I'm a mom, fall means only one thing: back to school. And unlike my rapidly growing daughter who requires a new wardrobe every year, I'll keep wearing the usual: stained t-shirt and yoga pants. Or t-shirt and stained yoga pants, just for variety's sake. Seriously, it hurts to look in a mirror right now. Why have I and so many moms I know abandoned the fashion they used to love?  Allow me:
1) Nice clothes just get ruined — Motherhood is a dirty business. Pick your poison: pee, poop, breast milk, spit-up, food, mud, paint. They're all going to end up on your clothes, but they're not all going to wash out, so you'd be a fool to wear anything expensive or dry clean only.
2) Fitted clothes can't handle the strain – We're constantly bending, lifting and sitting criss-cross-applesauce. Can you imagine doing any of that in a pencil skirt?
3) High heels are dangerous – Whether you're carrying a precious baby or sprinting after a runaway toddler, sneakers are a whole lot more stable–and speedy–than stilettos.
4) Jewelry is baby bait – Have you heard the one about the mom whose earlobe was split by a baby yanking on her hoop earring? Not an urban myth!
5) Purses are pointless – Considering the collection of moist and disgusting things typically found in a mom's bag (cracker crumb lint, half-eaten banana, leaky sippy cup, used wipes and worse), the best bet is a diaper bag or waterproof tote. Clutches, I hardly knew ya.
For more excuses (I mean reasons!), continue the list at Lifetime Moms…