Last weekend, Dave and I had a very special date night planned: popcorn, Netflix and the couch. What's better than that?  The movie of choice was Sofia Coppola's The Bling Ring, the based-on-a-true story of Hollywood teenagers who robbed the homes of their celebrity idols, like Lindsay Lohan and Paris Hilton.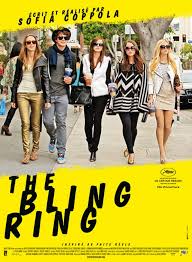 The movie hadn't been a huge hit, but it sounded trashy and fun—right up our alley.  We popped in the DVD and settled in for a good show.
Now, for this story to make sense, I should mention that Dave and I have both had careers in the entertainment industry. He's an editor, and I was a producer.  So theoretically we have trained eyes.
Had you been in the room with us, here's the running commentary you would have heard:
Me: "Is that Jennifer Grey?"
Dave:  "This feels like an after-school special."  

Me: "Yes!  I wonder if Sofia Coppola is making an artistic statement with the really basic visual style."
Dave: "See that?  It faded to black in the middle of the scene, like it's going to a commercial. That's so weird."
Me: "Have you noticed they've used the same nightclub setting like 5 times?
Dave: "This must have been low budget.  The music is cheesy.  I don't get it – the soundtrack for The Virgin Suicides was great."   
Me: "Oh that is the worst Paris Hilton impression I've ever seen."
Dave: "If they couldn't get Paris, they should have just shown a blonde from the back – why be so obvious that it's not her?  This movie just lost all credibility."
Me: "Why are these cops so dumb?  They're not believable at all.  Wasn't this a true story?"
Dave: "I thought this was going to be this slick Hollywood movie and ultimately it's a character study of a boy with anxiety."
Me: "What kind of gum did he say he was chewing?"
Dave: "Some fake brand they made up because they couldn't pay for Wrigley."
Me: "Maybe that's a commentary on how fake our society is?" 
Dave: "Sofia Coppola is dialing it in."
We went on like this for a full 90 minutes, picking apart the movie while trying to justify Sofia Coppola's weird choices, because we like her as a director and we wanted the movie to be good.   Only when the credits rolled and the Lifetime Television logo came up did we finally realize what had happened.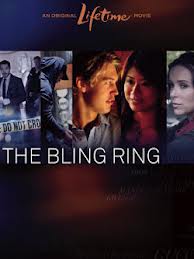 It turns out that Lifetime had released a TV movie also called The Bling Ring starring no one (unless you count Jennifer Grey) and that's what I had inadvertently ordered on Netflix.  (What a trap!)   Now I love me a good Lifetime movie, but if you think you're about to see the work of a stylish auteur, you've got another thing coming.
The crazy part is that neither of us remembered that the movie we'd wanted to see starred Emma Watson and Leslie Mann (with a cameo by the real Paris Hilton) despite the fact that we'd seen the trailer, which is why it was on the Netflix queue in the first place.
We weren't always this dumb.  I have to blame parenting a young child for stealing all our brain cells and short term memory and preventing us from staying current on pop culture.

But we laughed ourselves silly and that was worth every lousy minute.