We're 10 months out from our wedding (frightening to read that back, since that time frame implies I should be, um, planning something?), so I decided it was time to start training our daughter to be a flower girl.   Certainly, that would be easier than any of the tasks I'd been procrastinating, like blocking hotel rooms, making a wedding website or actually deciding on a dress.
I found an adorable book from Victoria Kann's Pinkalicious series called Pinkalicious Flower Girl.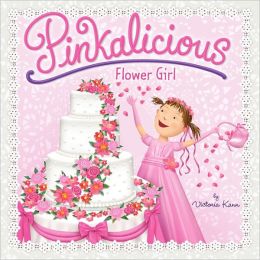 It explains the whole flower girl job from the perspective of the little girl.  My little girl loved it and made me read it three times right away.  Since then, she's been ripping up whatever flowers and leaves she can get her hands on to practice throwing them.  Sorry, neighbors.
We went out of town this weekend to celebrate my birthday.  There happened to be a wedding going on, and from our patio, we had a front row seat.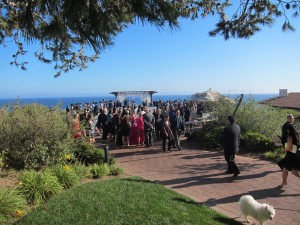 Our room was right next to the start of the processional, so as each member of the wedding started down the aisle, I whispered excitedly to Viv: "There's the mother of the bride!  There are the groomsmen!  There are the bridesmaids!"
The solemnity of the moment was disrupted by my daughter shrieking, "But where is the flower girl? I want to see the flower girl!"
There was no flower girl.
The horror!
I promised Viv that not only would she get to see a flower girl someday, she would get to be a flower girl, at her own mommy and daddy's wedding.  I told her that in a few months, we'd go shopping and find her a beautiful flower girl dress.  And then she said, and this is an exact quote:
"No, Mommy.  I'll wear your dress, of course."