My 2-year-old daughter Viv has the most beautiful hair.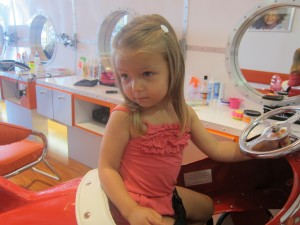 Too bad she won't let me touch it.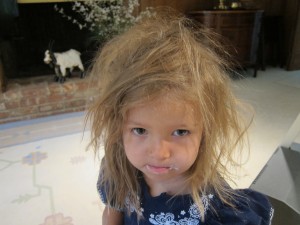 A hairbrush might as well be a machete by the way she runs screaming: "No mommy! Not my hair!"
When Viv first resisted my efforts to comb out her easily tangled mop, I thought maybe I was hurting her.  After gently testing some half a dozen styling tools including a paddle brush, wet hair brush, fancy kids salon brush and wide toothed comb, I concluded that pain was not the issue.  She just doesn't want me messing with her hair.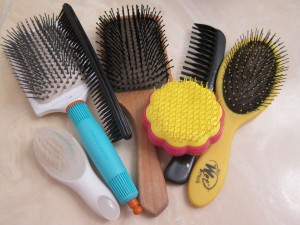 If brushing Viv's hair is challenging, styling it is downright impossible.  Whenever I manage to distract her long enough to slip on a barrette–perhaps a lavender polka-dotted flower that perfectly complements her outfit–she'll yank it out before I can even say, "That's so cute." 
Alas, her gorgeous hair hangs in her face all day, making her look like Cousin It on The Munsters (are you old enough for that reference?) or that scary girl from The Ring.  
It bugs me.  It even bugs her.  But apparently she'd rather spend all day shoving her hair back behind her ears (with fingers that are almost always muddy, sticky, or covered in yogurt) than let me fix her up with some nice pigtails. 
Occasionally, Viv will allow someone who is not me to touch her hair.  She got on famously with the stylist at the kids salon; at two years old, Viv intuitively understood that salon pampering was a good thing.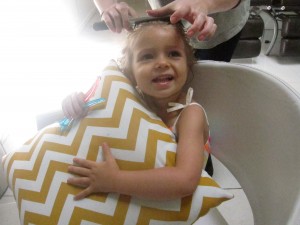 I'm lucky I got out of there without springing for a toddler mani/pedi.  
The story continues at Lifetime Moms…please leave your comments here or there (like, does this happen to you too??)