Hi blog friend.  You can usually count on me writing about parenthood, trying to get pregnant or planning our wedding.  But once in a while, my pre-Dave & Viv life rears its ridiculous head and I sneak in a story about surprise genital piercings or canoodling with an aging soap star.
It was in that R-rated spirit (that's your warning, Dad!) that I submitted a story called "Second Husband Material" to the new humor anthology, "You Have Lipstick On Your Teeth" And Other Things You'll Only Hear From Your Friends In The Powder Room.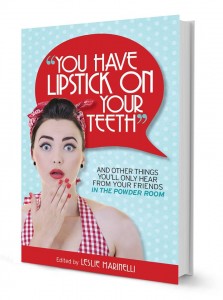 The book just went on sale and I'm excited to be a part of it, along with 38 other funny lady writers, including Creator/Editor Leslie Marinelli, Editor in Chief at In The Powder Room and super blogger at  The Bearded Iris.
I was going to recommend it to you by saying,"It's the perfect summer beach read!" but since so many of you have little kids like I do, that would be kind of a mean thing to say.  Reading at the beach?  What's that?  I sort of remember it.  But don't sweat it.  The great thing about this book is that the stories are funny and SHORT.  You can read them, oh, I don't know…in the powder room!