Hey there, did you miss me? We just got back from summer vacation – aka Viv's east coast relatives tour: three grandmas, two grandpas, one great aunt, two good aunts, two honorary aunts, two uncles, a newborn cousin and a partridge in a pear tree.
It was the new baby that brought us to the big apple, and it was the big apple that brought us to our knees.
Manhattan moms, I don't know how you do it. Take everything that's already hard about parenting a toddler and multiply it by a factor of hot, crowded and crazy.
Mind you, I used to love hot, crowded and crazy.
In my 20s, when I'd skip home at sunrise from some alphabet city bar to my third floor walk-up in the west village, swap my mini skirt and combat boots for a pants suit and pumps and jump on the F train to work without breaking a sweat, I thought I was such a bad ass. I thought I owned New York. Now, a decade in easy breezy California and one child later, New York doesn't even recognize me. New York thinks I'm a pussy. And New York is right.
Here's what kicked my butt:
1. The Heat – The week we visited, the temperature topped 100 degrees. You know it's crazy hot out when you're reminiscing about "that one nice day" when it was only 96. Sweat turned my body into a fire pole for Viv to slide down when I tried to carry her. I got a sunburn off the glare from this insane metal playground slide slash medieval torture device that I believe was designed to weed out out-of-towner wussies.  Mission accomplished.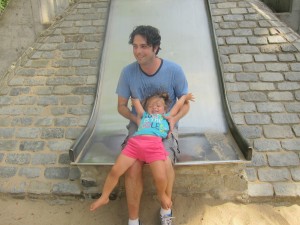 Here I was in the greatest city in the world, and all I wanted to do was get in a car and drive to a nice air conditioned mall. Yep, I'm officially a suburban loser now, and I'm okay with it!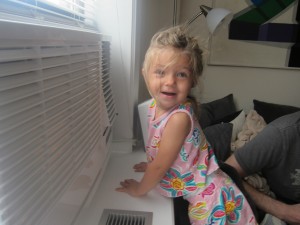 2. The Schlepping – I had this great idea that we'd save taxi money and give Viv a little thrill on the city bus.
What I didn't picture was standing room only, strap-hanging with a slippery kid on my hip, Dave juggling the diaper bag and packages and balancing the folded stroller between his legs, smashed up against a guy who inexplicably brought two massive moving boxes with him on the crosstown bus.  He smelled great by the way.
3. The Overstimulation – In the city that never sleeps (honk honk!), neither does my child. At least not at night, in a bed. Instead she took random naps at inopportune moments, once waking in a state of full volume horror movie shrieking seconds before our entrees arrived at a French bistro where we'd attempted to sneak in an adult meal. Worst idea ever.  We napped al fresco after that.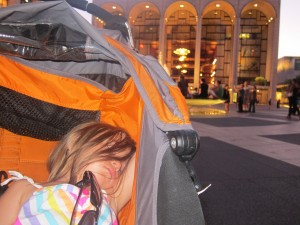 4. The Temptations (Not the Motown kind) – You know how when your kid wants ice cream, and you just don't have the energy to argue, so you say the ice cream store is closed? This classic parenting ruse is damned hard to pull off in a city where treats beckon on every block. Ice cream store closed? How about this hot dog cart, popsicle truck, or designer cupcake bakery? And given the ungodly humidity (see #2), you're too exhausted to actually lay down the law.  You'd rather just lay down.  Snow cones for everyone!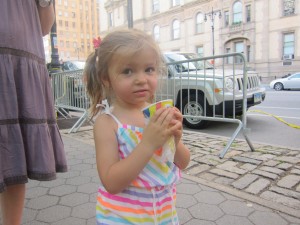 5. The Cost (ATM, Uncle Henry!) – It was $56 just to walk in the door at The Museum of Natural History, and that's before the cafe and gift shop. For that price we should get to see Mickey Mouse or some princesses.  The big blue whale on the ceiling was pretty cool I guess.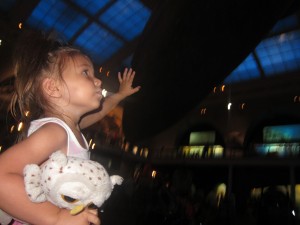 So screw it – I'm never taking Viv back to New York!  Except every year so we can see The Nutcracker at Lincoln Center, skate at Rockefeller Center, see Annie on Broadway, drink frozen hot chocolate at Serendipity, climb the Statue of Liberty, cruise The Cloisters, take in a Yankee game, visit the mummies at The Met, check in on the Central Park Zoo polar bears, and of course, see all those New Yorkers we're related to.   Just maybe not in July.