As a woman, I appreciate where Devan McGuiness is coming from in her Babble article, "Please Stop Telling my Daughters They're Beautiful."   She's noticed that while strangers tend to engage her son about school and sports, they'll focus all their attention on her girls' looks and clothes.  She wants us, the random people who meet them, to stop objectifying her daughters.
She's right, of course.  But as a mother, I can't do it.  I can't withhold the B word, especially from my own daughter.  I tell her she's beautiful all the time.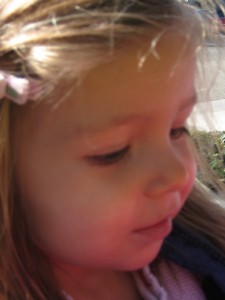 Partly that's because she is beautiful, inside and out, and I'm in awe of her.  I was never cut out to be a praise-withholding Tiger Mom.
But my need to comment on her adorableness also comes from a deeper, darker place—specifically, junior high, a truly torturous time for me.   I was a late bloomer, scrawny and flat-chested.  Add to that an ill advised 80s perm (and braces) and I looked like a poodle on a stick.
We didn't discuss beauty much at home, except in reference to otherworldly icons like Cheryl Tiegs and Bo Derek (not helpful).  All I knew for sure was that my mother was drop dead gorgeous and I looked nothing like her.
Continued at Families in the Loop.  Please leave your comments there or here.  Thanks!