I was very excited when Families in the Loop, a hub for urban parents, reached out and asked me to blog for them.  I was even more excited when they said it was okay to re-run a few of my favorite past blog posts.  That's green living, people!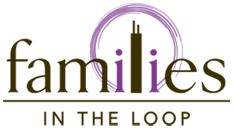 If you're new to Carriage Before Marriage, you might not have seen this one anyway, called Eating Out With Kids: Survival Strategies.
I wrote it a few months ago when Viv started wreaking havoc in restaurants.  At the time, I figured it was a phase.
Nope, not a phase.