When I started blogging, I intended to write in equal parts about being a new mom, trying to have another baby and planning my wedding.  Two out of three ain't bad!
We haven't made a lot of progress on the big event.  I did schedule some appointments to look at bridal gowns when my mom was in town, but then my kid got a fever and we had to cancel.   These things happen when you're planning a wedding while raising a toddler.  Perhaps that's the reason behind the rampant Marriage before Carriage trend.
But there could be an upside to doing things backwards, and I'm not just saying that because I already have a baby.
Someone I know got married recently and I heard that she had a co-ed bachelor/bachelorette party in Las Vegas where she performed a burlesque pole dance for her fiance and all their friends that was totally triple X (as in eXtremely awkward for everyone involved).   I don't mean to malign the bride—she's a gorgeous girl and I'm sure her groom appreciated the deposit in his spank bank.  I'm just saying that particular custom is not for me, and luckily my mommy lifestyle leaves little time for pole training.
The way I see it, motherhood is going to get me out of all kinds of silly wedding traditions, for instance:
Sleeping in separate beds the night before the wedding.  Seriously, we have a child — the jig is up.  I'm still totally wearing white though.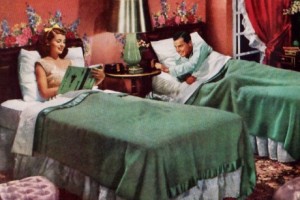 Getting into the best shape of my life for the big day.  See, I was already in the best shape of my life once, and that was in 2002.  I feel a bit badly that I hadn't met Dave yet, but hey, I've got pictures!
Registering for good china.  We are all about plastic plates that bounce around here.  A waffle maker, I can get behind.
Choosing matching dresses for the bridesmaids.  Now that I'm a bonafide coupon-clipping SAHM, the last thing I'd do is make my best friends waste money on disposable evening wear.  "You can shorten it" is right up there with "It's not you, it's me" and "I didn't inhale."
Letting guests throw rice or confetti at us.  These are clearly choking hazards.
Smushing wedding cake in each other's faces.  Why mess with the good table manners we've been modeling for our toddler?
Finding an age-appropriate guest to be our Flower Girl.  That's because I already have one, and I gave birth to her.  Hey there, Flower Girl.