THE BARNEY BUTTER GIVEAWAY IS NOW CLOSED.  THANK YOU FOR PLAYING.
Have you tried Barney Butter?  It's an all natural almond butter that's yummy and good for you too, with less than half the saturated fat of peanut butter.  Perfect for folks with peanut allergies.   It's even gluten free!   It's no wonder Oprah's a fan.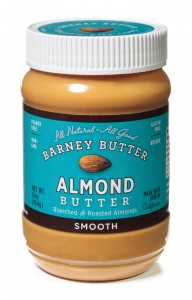 Read on for your chance to win two 16 ounce jars of Barney Butter – one smooth, one crunchy – and 7 individual snack packs, one for each day of the week. 
I discovered Barney Butter through my friend Dawn, who is actually president of the company.  After she shared samples with all her friends, I became a devoted customer, and was glad to see they carry Barney Butter at my local Whole Foods so I don't have to keep mooching.  I like that Barney Butter is naturally no-stir, meaning the oils don't separate and rise to the top.
I especially love that I don't have to refrigerate it after opening.  I prefer my nut butters room temperature for maximum spreadability (that's totally a word).  Before discovering Barney Butter, I once started a small fire in my microwave while attempting to loosen up some chilly peanut butter, failing to notice there was still a bit of silver foil left on the rim.  With Barney Butter, my kitchen is actually a safer place.  But enough about me.
To enter the giveaway, just leave a comment below explaining how you'd eat your Barney Butter.  Would you spread it on an apple, make a sandwich, or eat it straight from the jar?   For more ideas, check out BarneyButter.com, which has a really impressive selection of recipes, from appetizers to desserts.  I'm a huge fan of the Noodle Stir-Fry with Spicy Almond Butter Sauce.   I tweaked it based on ingredients I had in the house…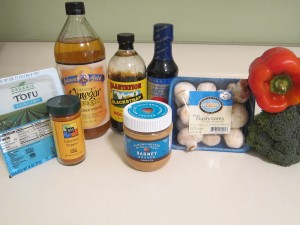 And voila!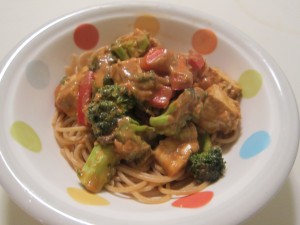 It was a big hit, even with my toddler.  Finally, a Barney she can love who is not an annoying purple dinosaur.
The giveaway is open from Tuesday, June 12 through Tuesday, June 19.  The winner will be chosen using Random.org and announced on the blog, so make sure you subscribe.
Use my fancy new share buttons to spread the word about the giveaway to friends.
JUST CLICK "READ MORE" TO PULL UP COMMENT BOX.   GOOD LUCK!!