You may have noticed that this blog has sponsors now.  I hope you don't mind.  BlogHer was really cool about it, allowing me to approve and reject various categories of advertising.  I said no to Republicans (sorry, Dad) and yes to booze (you're welcome, mommies), but mostly I'm seeing ads for diapers and minivans.   That's how I roll.
Ads on my blog are just one of the ways that I'm attempting to earn money while staying home with my daughter, Viv.
Other ways include bringing my change to Coinstar and selling old DVD's at Second Spin.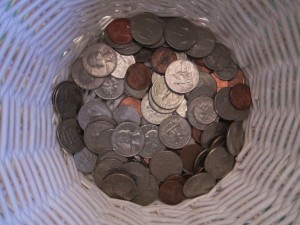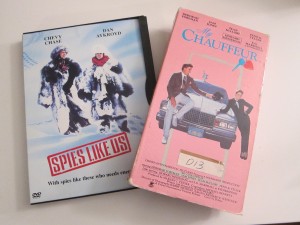 I recently joined the Yahoo Contributors Network, which allows writers to claim stories from a virtual assignment desk and be paid based on page views.  My first story, about the 1992 Volvo that I still drive, has, as of this writing, generated 7 cents.  Dave told me, "That's great honey, in 30 years you can buy me a cup of coffee."  Such hyperbole.  I'm certain I'll be able to buy him a coffee by the end of 2012.
There just have to be ways I can contribute financially to this family without missing any of Viv's new words, milestones or mommy & me music classes.   I am not above playing the lottery.  I realize the odds of winning are not good, but crazier things have happened, like the time I made six grand for four hours' work while completely dressed (I'm the one in hot pink).
So there's no reason not to hold out hope that this blog will suddenly go viral and my ads will be there to reap the rewards.  But just in case that doesn't happen, I'm working on my Ebay store.  I'm pretty sure this guy makes more money with his clothes off.