I had planned on teaching my daughter good morals and values by example.  I wanted to be the kind of parent who counts the change from the hot dog vendor hoping to have received too much just so she can make her kid trudge back and return three pennies.  In practice, I seem to be more the kind of mom who goes, "Ooh, free pennies."
Here are the crimes I have committed in full view of my daughter so far.   If she ends up in juvie, you'll know why.
SHOPLIFTING – When Viv gets fussy in the supermarket, I'll let her hold an apple or a banana.  And then I'll forget to pay for it on the way out.   We've got sticky fingers, in more ways than one.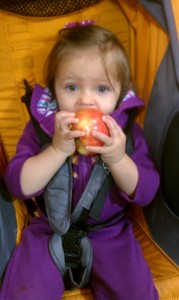 STEALING – At the park, Viv borrowed a little girl's colored chalk.  When the mom came to collect the pieces, I pretended not to notice that Viv was still clutching a chunk of yellow.  It wasn't worth the tantrum I'd face if I pried it out of her grabby little hand.   Sorry, little girl and her mom—the path of least resistance is my favorite street.
LYING – "So sorry I can't pick you up from the airport, it's Viv's nap time."  "We would love to see your stand-up comedy but we just can't find a babysitter."   "Did I say I would be there at two?  Ugh, mom brain."
KILLING – I used to be a lover of all creatures great and small.  I've personally saved countless spiders (every one of them is Charlotte, to me) by carefully cupping them in my hands and releasing them back into the wild through my front door.  But when a water bug popped up out the drain as I was starting Viv's bath, it was dead in 3 seconds.  Didn't even get a fair trial.
COVETING – You know this about me already if we're friends and you have a backyard.  Or a 6-burner stove.  Or storage space.   I want, I want.
SWEARING –  Like, all the time.  Especially when I stub something, drop something or lose something, which are the three things I do most in any given hour.  The only reason Viv is not using the F word yet is that she hasn't found the F sound.   She can already say "duck" so we are probably just weeks away.   Set up your play dates with us now!
Make a mama feel better and tell me, what do you do in front of your kids that you're not so proud of?   I just ended a sentence with a preposition, so we can add that to my list.
P.S. If you laughed at all while reading this, even a courtesy laugh, please vote for my blog in the Circle of Moms Top 25 Funny Moms blog contest.   You don't have to register, it's super easy.  Just click on the link, scroll down till you see Carriage Before Marriage and vote.   You can vote 1x/day til March 21.  Thanks!