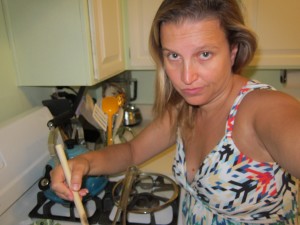 No matter how much you love being a mom, sometimes it's hard to keep a smile on your face. As rewarding as your "job" is, it's also frustrating, repetitive and maddeningly illogical. On any given day, one, or maybe all of these annoying things might be happening to you (and I realize this list doesn't even scratch the surface):
1. You ask one last time, "Does anyone need to use the bathroom before we hit the road. Once they're dressed in layers, buckled into car seats and hurtling down the carpool lane on the freeway, you hear those dreaded four words: "I have to pee!"
2. As soon as you've prepaid for the custom-fitted dance recital costume that costs more than your car payment, that's when she decides she'd rather play soccer.
3. The amount of glitter stuck between your floor boards can only be rivaled by the amount of sand in your bathtub.
4. You agreed to be one of four Room Parents for your child's grade school class. How hard could it be? Then the other three Room Parents abruptly quit, leaving only you.
Continue the list at Lifetime Moms…