It's 3am and I'm waddling to the refrigerator for a snack (aka fifth meal). Hunger pangs, heartburn and round ligament pain have been wreaking havoc with my sleep, and I'm starting to wonder why I thought it was such a good idea to get knocked up again. "The baby!" I have to remind myself. "You wanted another baby."
Since it will be five more months until I meet said baby, and I'm just getting bigger and more uncomfortable by the day, I've forced myself to come up with some other reasons to love being pregnant: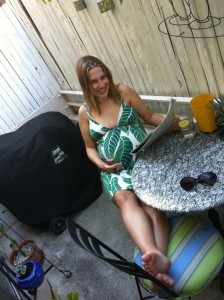 1. I never have to suck in my gut. The curve of my belly actually seems beautiful, and I enjoy flaunting it in fitted clothes and even bikinis. I wish I felt this way all the time.
2. I get a free pass on a lot of annoying tasks like carrying luggage, cleaning with bleach and polishing silver. It makes me want to get a cat just so I wouldn't have to change the litter box.
3. I'm never at a loss for small talk. Someone will always ask about the belly.
4. Forget about that whole, "Eat half of what's on your plate and pack up the rest" business. I'm eating for two now and I will have all the pasta, thank you.
5. My cups runneth over. That bra-stuffing teen girl I used to be never dreamed she'd have such impressive knockers. Seriously, they're real, and they're spectacular.
Continue the list at Lifetime Moms…