I think 89% of you read this already via social media, but I liked this post and wanted to make sure it got to the anti-Facebook crowd.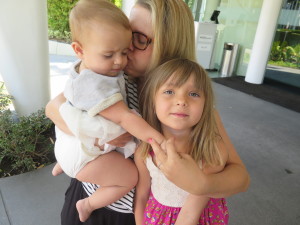 You should see me with the baby. I kiss and cuddle, hold and rock, murmur and nuzzle. Every interaction with her is sweetness and light, and my patience knows no bounds. I play peek-a-boo, sing silly songs, read stories over and over and shower her with praise for the tiniest of discoveries, like finding her belly button.
So who's the crazy bitch parenting my 5-year-old? The one who loses her temper, rolls her eyes and yells—loud. The one who scans the room for favorite toys to snatch away in punishment? The one who doesn't even try to hide her frustration and exhaustion from her impressionable young daughter? Oh right, that's me also. They're both me.
"You never yell at the baby," my 5-year-old astutely notices. "The baby doesn't know right from wrong," I tell her. "And you do." But is that fair, or even completely true? Sure, my preschooler knows the rules and frequently breaks them, but at her age, she's not exactly in full control of her impulses. She's still learning. Why can't I cut her more slack?
This is the hard part of being firstborn, I think. Compared with a helpless baby, older kids seem so big and competent—even if they're barely out of diapers. I wonder if my expectations have been out of whack. I've noticed that she bristles when I call her a big girl. Sometimes, she still wants to be my baby.
Keep going…it's over at mom.me.