The father of my child just abandoned me—on Facebook, that is.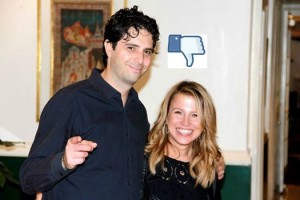 He quit the social media machine, claiming it's a time-suck that has gotten less personal and more annoying over the years.  I think he's crazy.  Without Facebook, how would I know which Scandal character I most resemble or what my old boss had for breakfast this morning?
I'm a pretty active Facebook user, so it bothers me that my partner in life is not my partner online.  He's missing my witty one-liners, my Throwback Thursday photos (Hi-oh, slutty Halloween costumes!) and all the cute kid pics I post for the pure joy of it, and not at all as narcissistic "like" bait.
On Valentine's Day, when my feed was flooded with everyone else's boastful declarations of love, I felt a little left out.  I mean, if you can't tag your boyfriend, are you really in a relationship?
Plus, social media updating can be hard work, and I'm carrying the full load.  As the sole representative of our family on Facebook, I'm responsible for ALL the Happy Birthday messages to our friends, ALL the RSVP's to parties and ALL the "liking." Oh, that liking.  My fingertips are raw!  Online relationship maintenance is clearly a two-person job.  I don't think my fiancé quite appreciates all that I do for him, on Facebook.
Finish reading at mom.me and if you like it, please LIKE it on Facebook–even though Dave will never see it–because I get cool points and the occasional bonus from my employer.  Gratzi!