Are you ready, because I've got three blog posts for the price of one:
I've been asked to write a weekly Conception Diary over at mom.me, alongside two other writers, all of us trying to conceive right before your very eyes!
My first post, They Call Me Fertile Myrtle, is introductory, but my second post gets into new material with a ridiculous story about the psychic Dave and I visited on our honeymoon.  If you like this sort of thing, check back at mom.me every Tuesday for my next installment.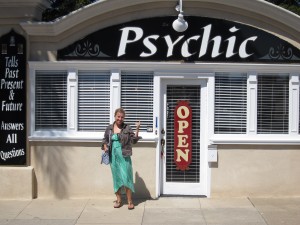 Coincidentally, I have a post up on Lifetime Moms called 7 of the Craziest Things I've Done While Trying to Conceive, in which I come off like a complete lunatic, but hopefully an entertaining one.
As exciting as it would be to get pregnant, right now what I'm really obsessed with is WHERE ARE MY WEDDING PHOTOS ALREADY?? so I can share them with you and finally tell you all the wedding stories.  Soon, I swear.