Inside scoop: I got an advance copy of this trippy new Lifetime series from my friend Todd Lubin, who's the Executive Producer.  The last time I worked with Todd (in my past life, before babies) was on a show called "Suburban Virgin," where we actually documented late bloomer dudes losing their V-cards.  So it did not surprise me that Todd was making another crazy bananas show — this time, about extreme natural births.  It's riveting – but scary! 
So set your DVR for the Tues 3/3 at 10p premiere of "Born in the Wild" on Lifetime, then check out what I wrote about it for Lifetime Moms…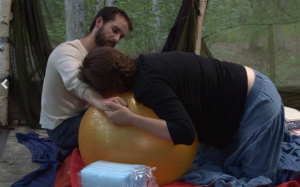 One of the scariest things I've ever seen is coming soon to a television near you. "Born in the Wild," a new Lifetime reality series premiering March 3, documents couples who eschew hospital births in favor of remote locations with no medical assistance. I cannot stop hearing the screams.
In the first episode, 24-year-old Audrey Bird prepares to give birth to her third child on a far-flung Alaskan beach, 150 miles away from the nearest hospital. While the typical pregnant woman fusses over birth plans and go bags, Audrey's primary fears are leeches, mosquitoes, unpredictable weather, rising waters and bears. Yes, I said bears. Because the act of giving birth is apparently not challenging enough unless you're also risking getting mauled to death.
So what's the big idea behind giving birth in the wild?
Read the rest at Lifetime Moms…